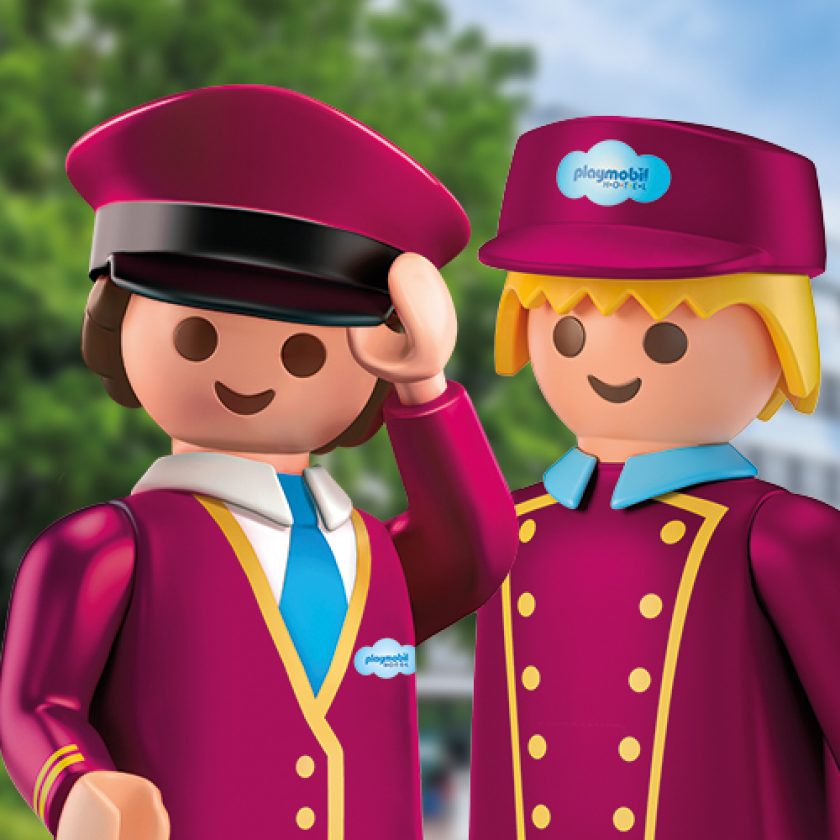 Updated September 2nd, 2021
Visitor information for our guests
We look forward to welcoming you to the PLAYMOBIL-Hotel.
BEFORE YOUR ARRIVAL
Please inform yourself about the currently valid official guidelines in Bavaria for protection against Covid-19 prior to your arrival.

Persons who have had contact with COVID-19 cases during the last 14 days are excluded from visiting the hotel.

If you have symptoms of illness before your arrival, we ask you to cancel your stay. Of course we offer free cancellation in this case.
WEARING MASKS
Masks are compulsory in the indoor areas of the PLAYMOBIL-Hotel for:
Visitors aged 6 – 15 years: medical mask
Visitors aged 16 years and over: medical mask, in case of yellow or red classification ("Krankenhausampel") FFP2 mask


Children under 6 years of age are exempt from the mask requirement.
TEST EVIDENCE
Please check the daily incidence value of the district of Fürth before your arrival: Kosy (landkreis-fuerth.de)

7-day incidence under 35:
Tests are not compulsory.

7-day incidence above 35:
Each guest must present a certified negative test result upon arrival and every further 72 hours (PCR test, not older than 48 hours or PoC antigen test, not older than 24 hours).

Please make sure that you have already been tested before your arrival, as there are no testing facilities offered at the hotel or at the FunPark.
The obligation to test does not apply to:
Children under 6 years of age, school beginners and pupils
Vaccinated persons (14 days after second vaccination with a vaccine approved in the EU, i.e. Biontech/Pfizer, Moderna, Astra Zeneca, J&J. A certificate or vaccination card must be presented).
Recovered persons (The disease must have been contracted at least 28 days but not more than 6 months ago. A respective certificate must be shown).


YELLOW/RED CLASSIFICATION ("Krankenhausampel")
Further measures apply in this case, such as FFP2 masks and PCR tests as standard.

As a general rule, each guest is responsible to present his or her own test certificate to the hotel. The respective proof documents (vaccination certificate, test result, etc.) must be shown at check-in and confirmed by signature.